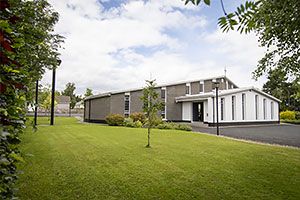 Saturday
8pm (Summer Time)
7.30pm (Winter Time)
Sunday
11.30am
Friday
Adoration of the Blessed Sacrament
7.30pm-8.30pm
On 29th June 1969 Dr. Patrick Lennon, Bishop of Kildare & Leighlin, opened the new church in Ballylinan. Built upon a site donated by Mrs. Bridie Maher the church sits in a central location on the Main Street of the village. A modern construction for its time the church is hexagonal in shape and constructed of steel and cavity brick walls. In 1989 the roof was re-felted at a cost of £17,000. Incorporated into the internal layout and design are elements of the old church in the village. The altar, tabernacle, Stations of the Cross, baptismal font and church bell all found a new home in the new church.
In 2019, in preparation for its Golden Jubilee, the church was once more renovated. The sanctuary area was enhanced by a new carpet,  a new ambo, and the existing altar was refinished to compliment the new sanctuary furniture: a new presidential chair and new  presiders chairs. One of the confessionals was removed and a restored stained glass window from the original church was illuminated in a new prayer space. A new baptistry was also created for the original baptism font. It now enjoys a bespoke stained glass backdrop of the biblical scene of the Baptism of Our Lord. New lighting throughout the church and a new amplification system was also installed. The Golden Jubilee Mass was celebrated by Bishop Denis Nulty, Bishop of Kildare & Leighlin, on Mission Sunday 2019.