Killabban Monastery is a unique monastic ruins based in south County Laois and is also within 3km distance of both the Kildare and Carlow county boundaries.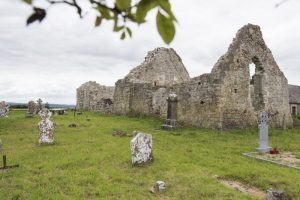 Unfortunately the ruins lay unpreserved for many years until in 2012 a local committee, Killabban Restoration Committee, was formed to undertake preservation of this precious site with advice, support and financial assistance from both Laois County Council and the National Heritage Council.
The monastery dates back to the times of St. Abban.  St Abban was a follower of St. Fiachra, who had a monastery in Sleaty, located between Graiguecullen and Knockbeg College.  Killabban Monastery was established by St Abban about 640AD.  As the monastery and surrounding town grew in size, he travelled throughout Leinster setting up monasteries in his name.  He founded one in Adamstown, Co. Wexford, which grew to equal the size of Killabban.  He also sent one of his monks, known as St. Evin, to establish a monastery where Moore Abbey stands today in the town of Monasterevin.
St. Abban is said to have been descended from a noble race of Leinster men.  His father Cormasus was king of the Leinster men and his mother Mella was sister of the Bishop of Ibar.
According to legend, when St. Abban died, the monks of Killabban and Adamstown decided to fight a battle near Graiguenamanagh and the winners would bury his body in their own monastery.
The battle was never fought, as monks from Graiguenamanagh got two coffins, put the saint's body in one and an equal weight in the other.  Having sealed the coffins, they gave one to each group and sent them home to bury their coffin.  In this way, neither group would know if they had the actual body.
Since work has commenced on this site and in order to promote its heritage within the community, a cemetery mass is held at the site on an annual basis each August.  It's wonderful to see this beautiful site being recognised and showcased for all its merits and remaining architecture that it still holds, and will continue to hold due to the careful, methodical and specialised preservation work that has taken place in recent years.
An Open Evening was arranged at the site to highlight this architectural treasure in our own local area.  This also helped to create renewed interest in this monastic site.  The committee also reached out to the local school and since then several pupils have submitted school projects on Killabban Monastery which keeps the historic interest alive from generation to generation.
After an initial report, commissioned by Laois CC and David Kelly conservation engineer, work was undertaken on the East gable in 2015 which removed vegetation and consolidated the structure. Work was also carried out on the chancel arch. Originally, the chancel arch had a bell cote incorporated into the apex, and unfortunately this has since fallen away.   In more recent  years work continued on all the surrounding walls stabilising the mortar and this is how the monastic site currently stands.
Much of the preservation work has now been completed.  At the committee's AGM each year, the next phases of work are discussed and a decision is made on work to be completed in the following year, depending on priority of  work and  funding available.