As Israel escalates its assault on Gaza, there is real fear of another massacre. Just like the ferocious attacks in 2008-9, 2012 and 2014, innocent civilians in Gaza will bear the brunt of full-scale Israeli bombardment.
Intentionally targeting civilians in Gaza and Israel is a war crime.
Bombing a civilian area in a disproportionate manner and without distinguishing between civilian and military targets is a war crime. Yet, without any accountability, there is little stopping Israel from repeatedly bombarding Gaza time and time again.
Attacks on Israeli civilians also constitute war crimes. Indiscriminate firing of rockets into civilian areas is not a legitimate self-defence. But we must be clear that when you look at the volume of human rights violations in Israel and Palestine, the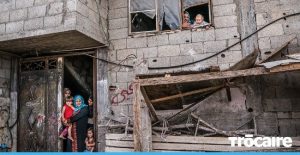 Israeli state is responsible for the overwhelming majority of them. For instance, in the 2014 war, 1462 Palestinian civilians were killed compared to six Israeli civilians.
Yet again, Israel's disproportionate use of force could mean another massacre in Gaza.
How are Trócaire's partners responding on the ground in Gaza?
As it has done during past attacks, our local partner the Palestinian Centre for Human Rights, is undertaking brave work monitoring and documenting the ongoing human rights violations. The work of another Trócaire partner, the Gaza Community Mental Health Programme will be crucial in helping people to deal with the trauma of bombardment.
What caused this latest escalation of violence?
Media coverage tends only to focus on the latest cycle of violence and the arguments of who fired first. But it's essential to step back and look at this situation over decades.
For over half a century, Israel has maintained a brutal apartheid style regime in the West Bank, and East Jerusalem, where Palestinian land is being stolen to build illegal Israeli settlements. For the past 14 years, Israel has blockaded Gaza, pushing a humanitarian crisis to a tipping point. Make no mistake, Mairead, this violence is a symptom of Israel's ongoing dehumanisation of Palestinians, and their lack of accountability for war crimes.
Stopping the cycles of violence
Ireland, the UK and the EU can play important roles in helping to end the cycles of violence. But the typical statements of condemnation are not enough, we need real action. Otherwise, we will continue to see scenes of devastation and hear stories of incredible human tragedy. Unless we take action, history will keep on repeating itself. Real action means:
Holding perpetrators accountable for war crimes, including for Israel's forcible population transfer in East Jerusalem and the West Bank
Moving beyond statements and recognising the situation in the West Bank as an annexation of Palestinian land, and taking all appropriate measures to end Israeli occupation of Palestinian territory
Supporting the efforts of the International Criminal Court to investigate potential war crimes in the Gaza Strip and the West Bank, including East Jerusalem
Recognising the State of Palestine